Profile
I'm a Software Enthusiast
---
About me
I love tackling the challenges and problems that come with technology. New technology is meant to improve lives and create new possibilities. Modern Cloud architecture is my passion and I have honed my skills through working in multiple data centers. My avocation involves dabbling in web developement, automation, android, and cryptocurrency.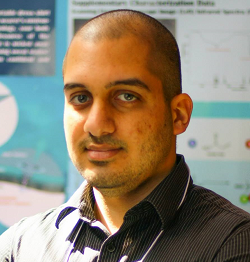 Details
Name:
Firas El-Hamed
Age:
25 years
Location:
Toronto, Canada, Earth
Experience
"Protons give an atom its identity, electrons its personality."
- Bill Bryson, A short history of nearly everything
---
Career
Stromcore
Mar 2016 - Present
Technical Specialist As a Technical Specialist I monitor the 24x7 data center operations which contains UNIX/Linux/Windows VMs, Citrix/Xenapp Applications, Storage, and Networks. In the production environment it is critical to be adaptable, have problem solving, analytical thinking, and time management skills. Some tools that I use are: AIX/RHEL/Debian, Bash/Korn, SQLPlus/mySQL/NoSQL, Python(flask, bs), PHP, JS(JQuery, React), Apache/Nginx, Tuxedo, and C/C++. Toronto, Ontario
MeetStreetInc.
Apr 2015 - Sept 2015
Software Engineer At MeetStreet I utilized my versatility in many tools such as Wordpress, RTMP/HLS Streaming, Apache and Nginx on several varieties of Linux. Clients loved the custom and responsive pages for their live events. Python was utilized for web scraping and MySQL for data storage. Mississauga, Ontario
Petroleum Institute
Jan 2013 - Apr 2013
Product Development Engineer Conducted simulations for a MIT (Magnetic Induction Tomography) device to detect pipeline contamination. The project budget was $20M and the proposal was presented to the Chair of R&D. The simulations were done using COMSOL, MATLAB, FEM, SolidWorks, and EagleCAD. Abu Dhabi, UAE | http://www.pi.ac.ae/
eHealth Ontario
Sept 2011 - Apr 2012
Feb 2015 - Apr 2015
Technical Support Analyst During my 10 months at eHealth I handled Change Management and Incident Management tasks in a professional manner. I had the pleasure of provisioning UfT's OneMail servers and implementation of ERP solutions. I had also managed a team of 4 students and created SQL queries for information optimization. Hardware Maintenance: including power grid optimization, deployment, break fix and move/add/change for servers, network equipment, and other devices. Markham, Ontario | https://ehealthontario.on.ca/
Waterloo Institute for Nanotechnology
Jan 2011 - Apr 2011
Reseach Assistant I was tasked with developing a novel drug delivery mechanism involving stimuli-responsive release of gold nanoparticles and liposomes. I independently created experimental design involving free radical polymerization, UV-Vis and gel electrophoresis in order to fully characterize hydrogels and stimuli-responsive release mechanism.
Publication: El-Hamed, Firas, Neeshma Dave, and Juewen Liu. "Stimuli-responsive Releasing of Gold Nanoparticles and Liposomes from Aptamer-functionalized Hydrogels." Nanotechnology 22.49 (2011). Waterloo, Ontario | https://uwaterloo.ca/institute-nanotechnology/
Nanometrics Inc.
May 2010 - Aug 2010
Product Verification Engineer Demonstrated hardware and software product functionality to potential and existing clients. Developed data acquisition, management, and reporting systems with daily reliable automated updates, received by senior administration members and key stakeholders. Increased validation efficiency 25% by writing automation scripts using Pearl and Matlab. Setup of Libra VSAT seismic data acquisition network comprising of satellites, seismometers, digitizers, and data processing. Kanata, Ontario | http://www.nanometrics.ca/
---
Education
University of Waterloo
Sept 2009 - Apr 2014
BASc. Honors Nanotechnology Engineering (3.9GPA) President's Scholarship, University of Waterloo, Aug. 2009 (entrance > 90%)
Dean's Honours List Waterloo, Ontario | Nanotechnology Engineering
Abilities
"Life without knowledge is death in disguise."
- Talib Kweli
---
Skills
HTML5

CSS3

SQL 12c

PHP

Apache

Nginx

JavaScript

Debian/RHEL

WordPress

Python

Java

C++
UNIX

Command Line

Tuxedo

Raspberry Pi

Citrix

VM Ware

Active Directory

Android

COMSOL

Matlab

IBM/Mainframe

SolidWorks
---
Languages
---
Tools
Ubuntu/CentOS (6 years)

Putty/SSH (6 years)

Windows (10+years)

MS Office (10+years)
Notepad++ (5 years)

FTP/SFTP (6 years)

Git (2 years)

Chrome/Firefox (5 years)
Projects
"You can do anything you set your mind to."
- Benjamin Franklin
---